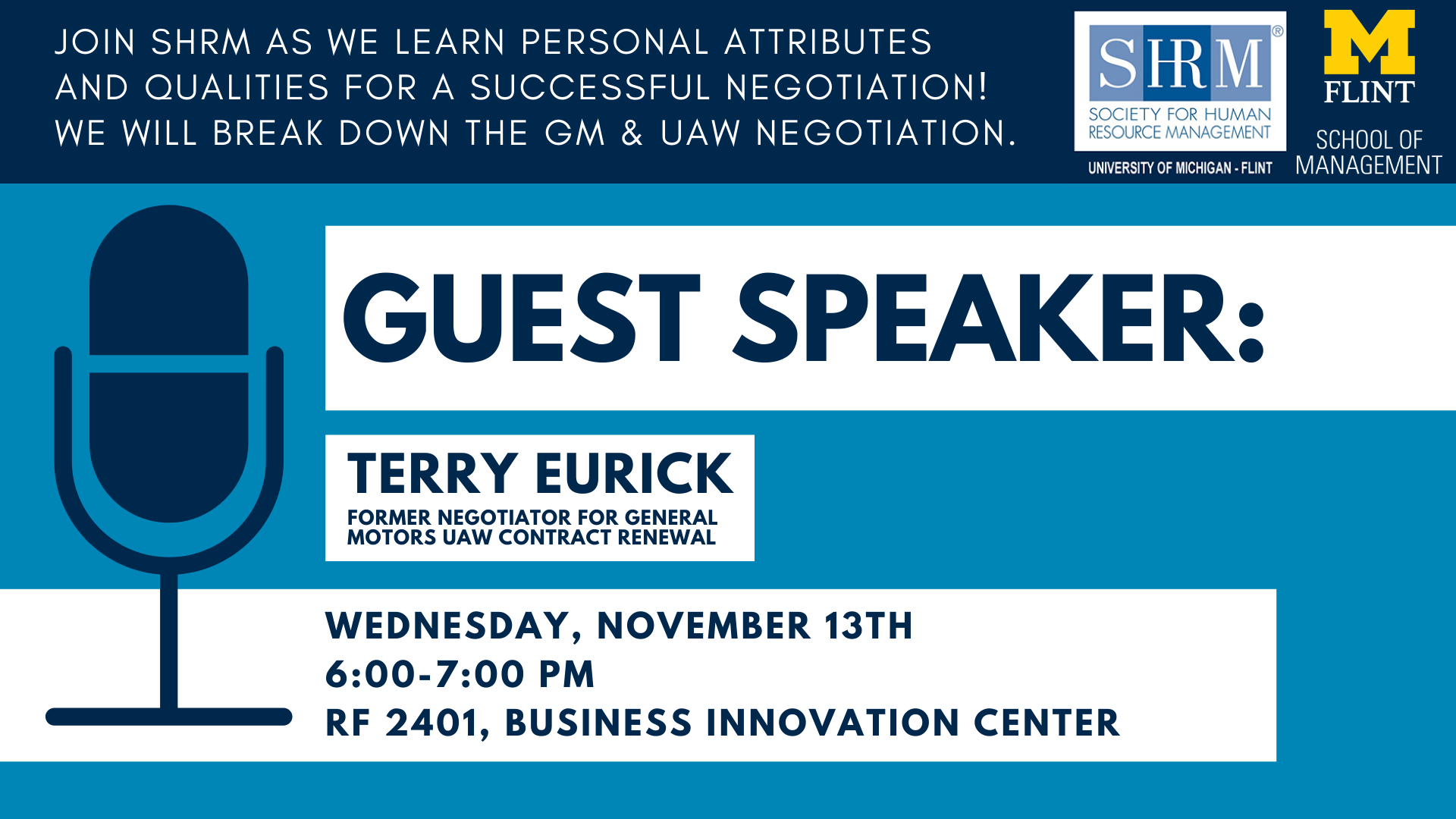 The Society for Human Resources Management UMF chapter and the School of Management invites UM-Flint students, alumni, staff, and faculty to a discussion with Terry Eurick, former negotiator for General Motors, on personal attributes and qualities for a successful negotiation. If time permits, we will also break down the latest GM & UAW negotiation.
Date: Wednesday, November 13, 2019
Time: 6:00 pm - 7:00 pm
Location: Riverfront room 2401, Business Innovation Center
Terry Eurick Bio:
Terry Eurick worked for General Motors for forty years. He held a variety of positions across the Midwest like working in Labor Relations for nine years at Pontiac Motor Division (MI) and Personnel Director positions at Bowling Green (KY) Corvette Assembly, Marion (IN) Stamping, Flint (MI) Stamping and Flint (MI) Truck Assembly. For the last fourteen years, he was the Director of Labor Relations in Vehicle Manufacturing. During his 40 year career, he bargained on six Local Agreements at the plants where he worked and also four National Agreements, the last in 2015. In May 2018, he retired from his career at GM. Terry was born and raised in Saginaw, Michigan and graduated from Arthur Hill High School in 1974. He received his BA in Economics at the University of Notre Dame in 1978 on a four-year football athletic scholarship.
If you have questions or interested in joining SHRM UMF chapter, email Alexis Menard at almenard@umich.edu