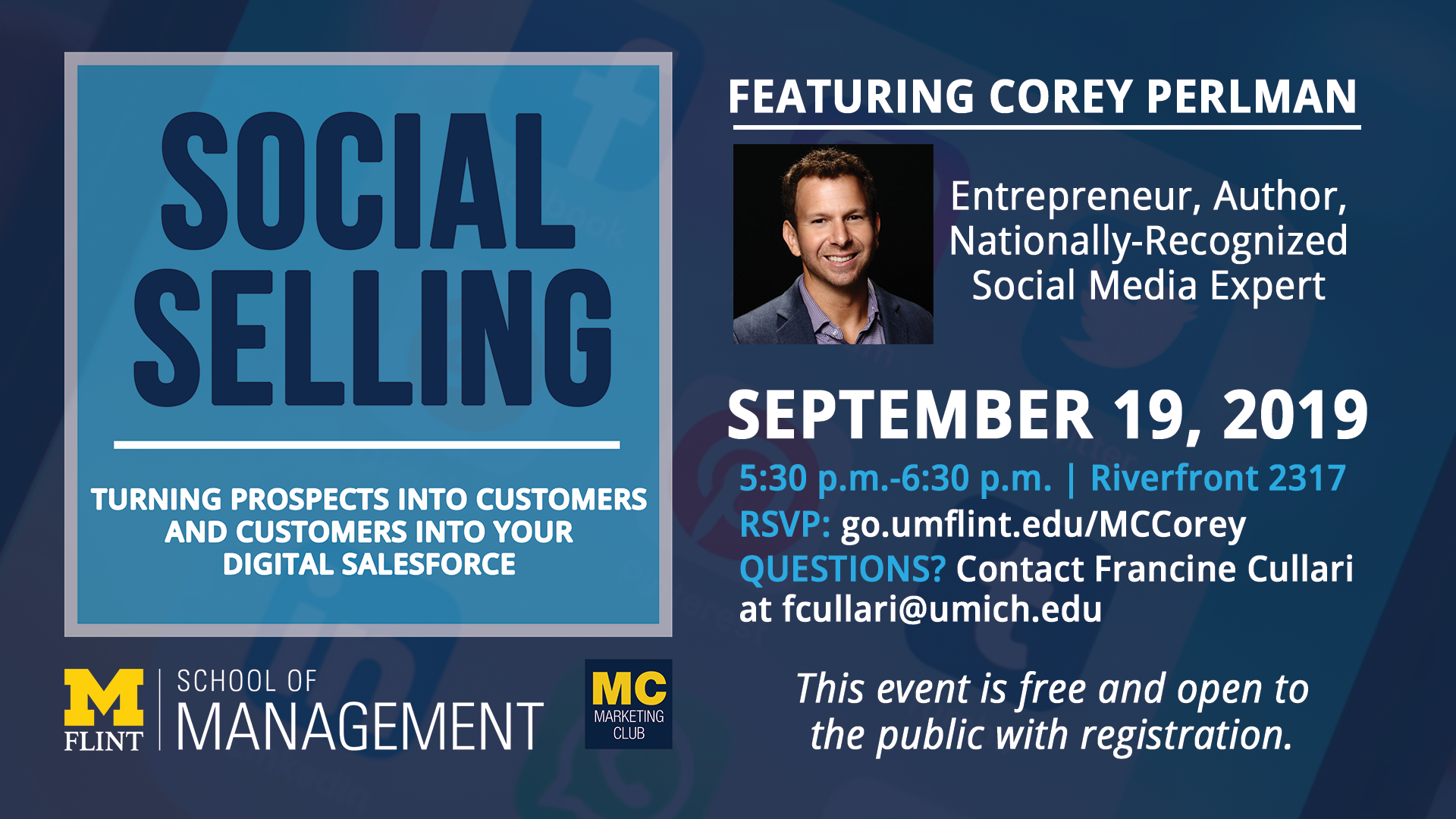 Date: Thursday, September 19th, 2019
Time: 5:30 pm -6:30 pm
Location: 2317 Riverfront [Campus Map] 1 Riverfront Plaza, Flint MI, 48502 [Google Maps]
On Thursday, September 19th, the Marketing Club and School of Management are excited to announce Corey Perlman will be in Flint, MI to present to students, alumni, staff, faculty and the community! The presentation title is Social Selling: Turning Prospects into Customer and Customers into your Digital Salesforce. Perlman is a national speaker and expert online marketing professional. Perlman has traveled across the United States as a featured Keynote speaker for large digital and marketing workshops. This event is free of charge and will be held in the second riverfront SOM classroom room 2317. Questions can be directed to Francine Cullari, fcullari@umich.edu.
Please Register for this event HERE.
More about the presentation:
SOCIAL SELLING: TURNING PROSPECTS INTO CUSTOMERS AND CUSTOMERS INTO YOUR DIGITAL SALESFORCEIt's not a question of whether or not social media is an effective sales tool. The question is whether or not it's working for you. Corey Perlman unpacks the sales process and offers a step-by-step procedure for winning business on social media. He shares best practices from 10+ years as the owner of a digital agency on how his clients generate leads, build credibility, close the sale and turn happy customers into repeat business and referral partners. No matter your profession, you can either win (or lose) business with what you're doing on the web.
Corey Perlman Bio:
As the owner of Impact Social Media, Corey Perlman is at the forefront of digital marketing for over 10 years. He started his career with the eCommerce division of General Motors, before launching his consulting and speaking business in 2009. He has worked with such notable brands as Sysco Foods, The American Healthcare Association, Dale Carnegie Training and The PGA Tour.
As a keynote speaker, Corey Perlman delivers results with his engaging interactive talks that are always tailored to serve his client's individual needs. He is continually rated as a top speaker by companies big and small.
The celebrated author of two bestselling books, Perlman's first, eBoot Camp! ranked No. 1 on Amazon in every major business category. His most recent, Social Media Overload! Simple Social Media Strategies for Overwhelmed and Time-deprived Businesses has been called engaging, relevant, a must-read, and spot-on marketing advice for any business.
Close to a decade of keynote speaking has produced a long list of highly satisfied clients.
Please Register for this event HERE.