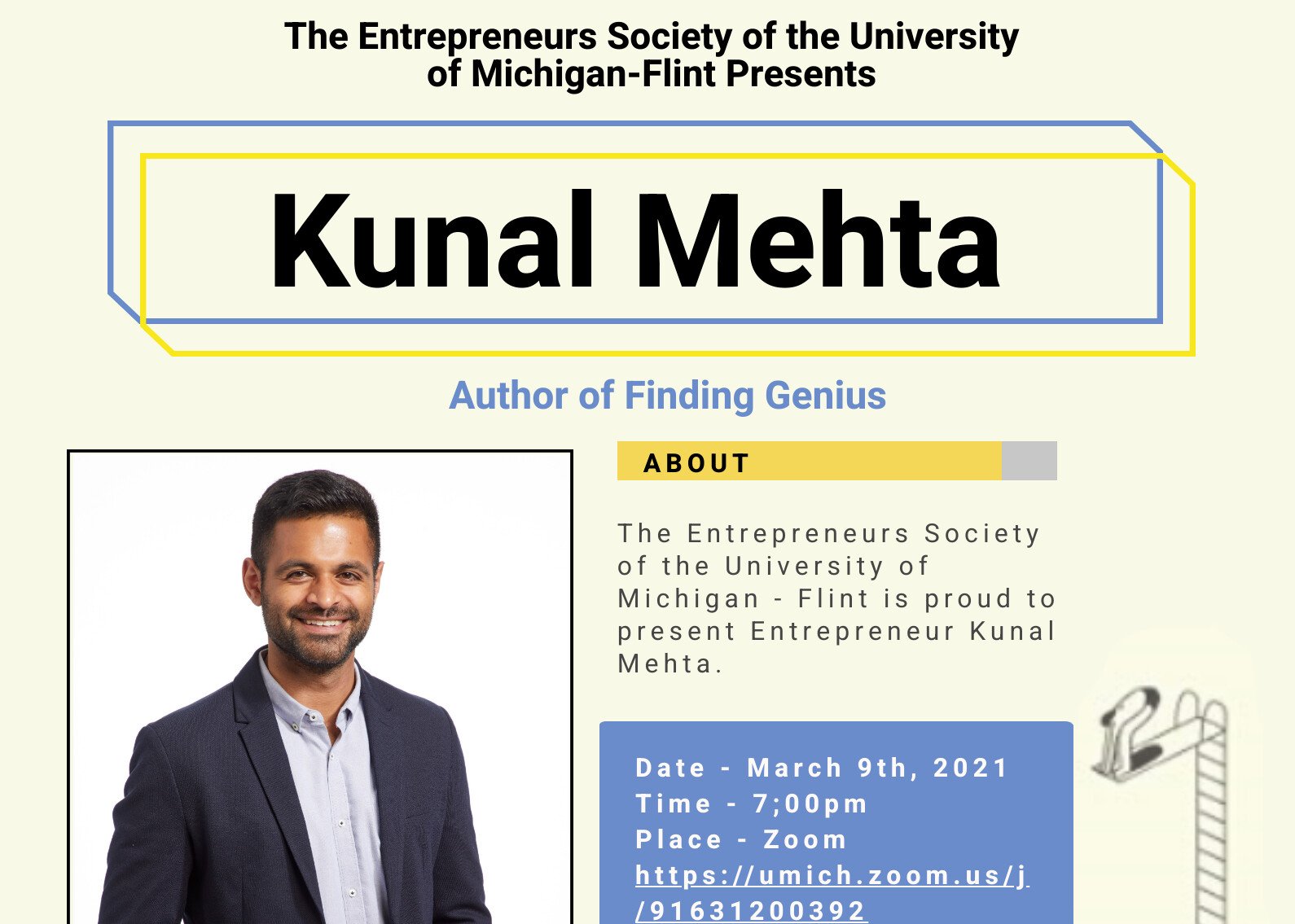 The Entrepreneurs Society of the University of Michigan - Flint and the Entrepreneurs Club of Michigan State University are pleased to present an evening with Kunal Mehta!
Do startups and entrepreneurship interest you? Have you ever wondered what companies like Alibaba, Twitter, Pinterest, Tesla, Lyft and Airbnb brought to the table to persuade venture capitalists to invest in them?
Kunal is a Venture Capitalist with Hearst Ventures and is also the author of Finding Genius and Disruptors. Kunal's most recent book, Finding Genius, is based on over two years of interviews with the venture capitalists who first invested in companies such as Uber, Airbnb, Tesla, Twitter, Pinterest, Space-X, and others. With a focus on creating a more diverse perspective, the book also invites several emerging VCs from different genders, socioeconomic backgrounds, and geographies, to write their own chapters on specific verticals of interest to entrepreneurs. Kunal's book has been featured at J.P. Morgan, Harvard Business School, NYU, Columbia, and across other conferences and universities. Kunal began his career at J.P. Morgan as part of the Smart Start Scholarship program. He left Wall Street in order to join the non-profit, charity: water, where he helped support the clean water initiatives in East Africa. Kunal launched his own startup, Unfold, and raised venture financing for that operation. During these seminars, Kunal speaks to these experiences, and candidly shares his stories from speaking with founders/VCs and his own experiences building and investing in startups.
Author Kunal Mehta spent two years interviewing venture capitalists who first invested in these companies to extract valuable insights.
He will share his knowledge with us via Zoom on March 9, 2021.
Zoom Link https://umich.zoom.us/j/91631200392
Open to everyone, please join us!!**
Please note: for security purposes, please enter your full name to be accepted into the Zoom meeting**